Noah Strycker, 2018 Keynote Speaker, is Associate Editor of Birding magazine, the author of two well-regarded books about birds, and a regular contributor of photography and articles to all major bird magazines as well as other media; he blogs regularly for the American Birding Association. Strycker set a world Big Year record in 2015, and his book about the experience, Birding Without Borders, was released in 2017. Strycker has studied birds on six continents with field seasons in Panama, Costa Rica, Ecuador, Hawaii, Maine, Michigan, Australia, Antarctica, the Galapagos Islands, and the Farallon Islands. He also works as a naturalist guide on expedition cruises to Antarctica and Norway's Svalbard archipelago, literally spreading the inspiration of birds from pole to pole. His first book, Among Penguins, chronicles a field season working with Adélie Penguins in Antarctica (Oregon State University Press, 2011) and his second, The Thing with Feathers, celebrates the fascinating behaviors of birds and human parallels (Riverhead Books, 2014). Strycker is also a competitive tennis player, has run five marathons, and hiked the 2,650-mile Pacific Crest Trail from Mexico to Canada. He is based in Oregon, where his backyard has hosted more than 100 species of birds. Visit his website at: www.noahstrycker.com
We'll also offer special presentations and workshops with these special guests:
Iain Campbell/Tropical Birding
Iain ended his career as a geochemist in West Africa when it dawned on him that his life list was more valuable than gold. He packed up his G-pick, said goodbye to fufu, and headed to South America, which better suits his style. He is very involved in bird conservation, having created Tandayapa Bird Lodge and Mindo Cloudforest Foundation. Besides being one of the original guides of Tropical Birding, he used to be a fanatical lister, but now much prefers to photograph the world's specialties.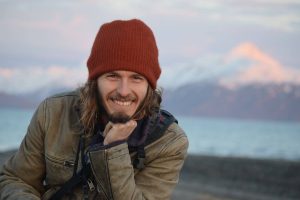 Raymond VanBuskirk/BRANT
is a passionate environmentalist, vegan. and "hipster birder" whose love for nature was born in the pine forests of the Land of Enchantment. His career experience includes former president of the Central New Mexico Audubon Society, owner and lead guide of BRANT Nature Tours (www.BrantTours.com), field ornithologist, ABA young birder camp instructor, and the former Birding Product Specialist for Leica Sport Optics.

NOTE: Due to unforeseen circumstances Jennifer Ackerman, has postponed her appearance until 2019, when she will be our 2019 Keynote Speaker