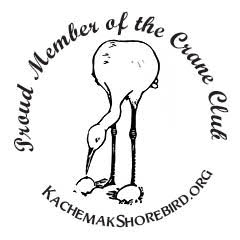 Help celebrate and share our unique community, businesses and environment here in Homer and receive serious perks!  Donate at any level to become a member of the Crane Club and be a recognized supporter of the 28th Annual Festival.  Check out the Crane Club Member benefits and donate today.
Join Online below!
Join by Mail: Mail the Crane Club Membership Form for Individuals/Families or Business Supporters, with payment to: Kachemak Bay Shorebird Festival, 95 Sterling Highway, Homer, AK 99603.
We accept donations year-round.  To be listed in the 2020 Printed Program, donate by February 1, 2020.
Want to host a Festival Event or promoting your birder-friendly dining and accommodations at the Festival? Email us and we'll notify you about how to get involved in the 2020 Festival.