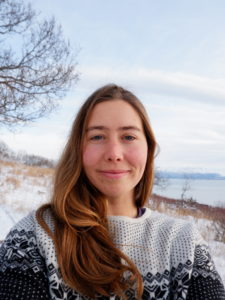 Oceana Wills
was born and raised in Homer, Alaska. She has been passionate about making art from an early age; as a child she sold pencil drawings of aquatic life and mer-mice for twenty-five cents in her father's bookshop. She studied English Literature in college and took drawing classes, but it wasn't until after she was back in Alaska that her interest turned to painting.

Now she spends her winters making art and sometimes traveling. In the summer she commercial salmon fishes in Bristol Bay, work that has inspired her paintings of women in the fishing industry. More recently she has focused her artwork on her relationship with nature and the landscape, leaning into what winter and relative isolation can inspire.  She works mainly in gouache on paper or claybord (a smooth archival surface) and loves playing with color. She paints from her imagination as well as from life and photographs. The opportunity to make art for the Shorebird Festival has led her to look closer at familiar landscapes and has made her more curious about the birds that live here or migrate to this place. 

To see more of her work, visit oceanawills.com. Find her on Instagram @oceana.wills.
The 2021 featured shorebird is the Ruddy Turnstone.  Looking like a calico cat this occasional visitor to Homer is seen with Surfbirds and its cousin, the Black Turnstone feeding at the water's edge in rocks and seaweed.
 Enjoy the stunning art work of this year's artist: Oceana Wills!
First Friday, May 7, 2021
at The Bagel Shop, 3745 East End Road, Homer


Join us for a "First Friday" event, featuring original work by Oceana Wills. 
Also view the collection of 6 x 6 canvas up for auction to fundraise for the Festival. 
View Oceana's art inspired by the land and sea
and find out how to bid on the 6×6 pieces by other bird loving locals,
auctioned in support of the Kachemak Bay Shorebird Festival.