Sarah Hoephner and Henry Stevens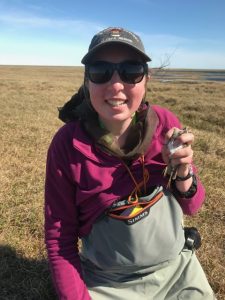 My name is Sarah Hoepfner and I am a senior studying biology with an emphasis in ecology and biodiversity at Humboldt State University in northern California. I grew up in Cordova, Alaska and have always loved learning about, and watching birds. Since high school I have enjoyed birding wherever I am at, and I especially try to seek out shorebirds. Growing up I learned about shorebirds through the local Copper River Delta Shorebird Festival, and saw the millions of birds that stop briefly to refuel on their way north. For the past several summers I have had the opportunity to work with the USFWS studying and living among shorebirds and other waterfowl that breed on the Arctic coastal plain. During the winter I get to see several species of shorebirds that spend the winter on Humboldt Bay and help conduct population surveys. I thoroughly enjoy seeing shorebirds year-round in all their different plumages, and am very excited to see new species and the spring migration through Kachemak Bay for the first time.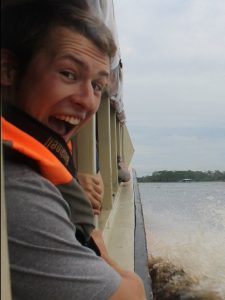 I'm Henry Stevens, originally from Exeter, NH, and a senior at Tufts University (Boston, MA) graduating in May with a joint BS in biology and environmental science. Birds have always been an important part of my life, but I really became serious when I was 17 after taking ecology and ornithology in high school. Since then, I have birded extensively in the US, Belize, South Africa, and Peru, with shorter birding trips in Honduras, Nicaragua, Costa Rica, Panama, and Ecuador as well. At Tufts, I founded the Tufts Ornithological Society, which has been instrumental in connecting me with other birders and even converting some of my friends! My senior honor's thesis is focused on systematically prioritizing important shorebird sites for the Western Hemisphere Shorebird Reserve Network (WHSRN), which will hopefully become a tool for future site selection. During the first two summers of my college career, I conducted research on the breeding biology of Gray Vireos in New Mexico, and I work in New Hampshire as a summer loon biologist. In the coming months, I hope to secure a full-time, bird-oriented job before returning to school to pursue a PhD in conservation ornithology. In the US, my favorite bird rotates between the Snowy Owl, Bohemian Waxwing, and Greater Roadrunner depending on the mood I'm in.
Apply for the Schantz Scholarship:
Are you a college student (undergrad or graduate) who is interested in birds, birding or ornithology?  Then you are eligible for a Schantz Scholarship!  Apply to be a future Schantz Scholar.  Recipients are awarded transportation and lodging in Homer, AK and access to the Shorebird Festival.  The Schantz Scholar participates in the Festival by sharing a Presentation, assisting at our Viewing Stations and enjoing all the Festival has to offer!  Applications are accepted in the fall and awarded in January.