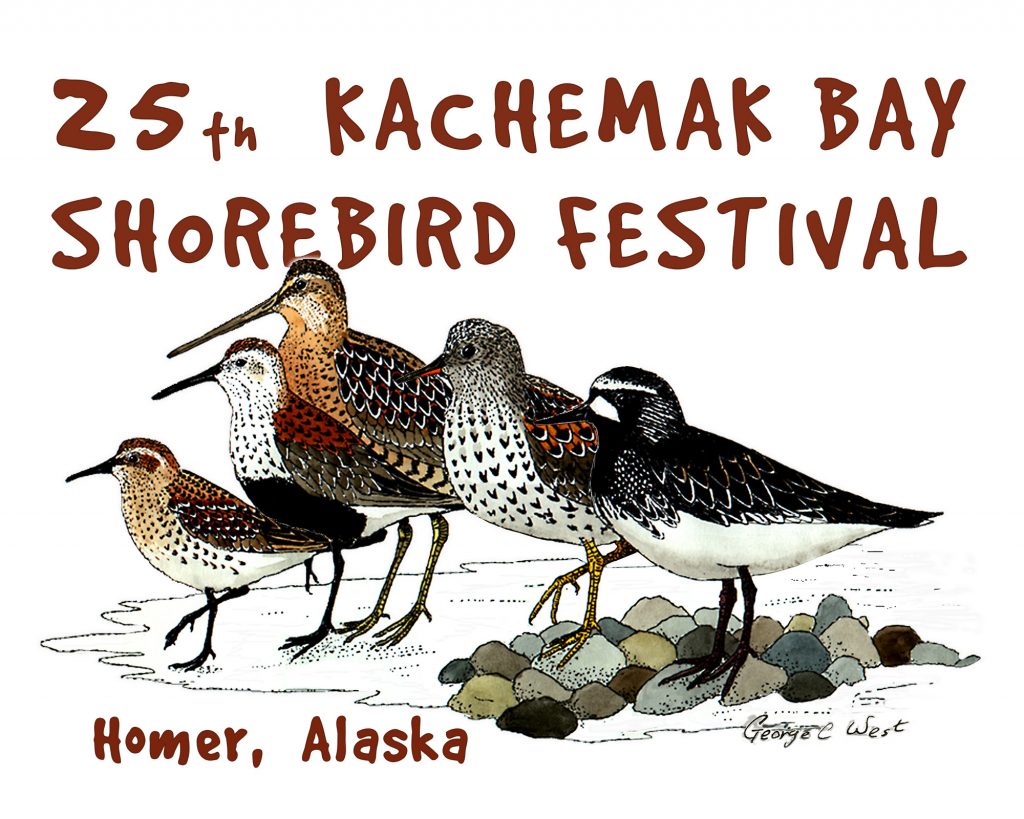 SAVE THE DATES! 25th Annual Festival: Thursday, May 4th- Sunday, May 7th, 2017.
On behalf of the Friends of Alaska National Wildlife Refuges, Alaska Maritime National Wildlife Refuge, and the Festival Planning Committee, I'd like to welcome you to the 25th Annual Kachemak Bay Shorebird Festival.  Alaska's largest wildlife viewing festival honors the return of spring and it's breathtaking bird migration. Homer's  seaside setting is perfect for spotting over 130 migratory bird species.
This year two authors will share their work with us. J. Drew Lanham joins us from Clemson University as our Keynote Speaker and Paul Bannick will share beautiful photography as our Featured Author. Both distinguished guests will present a variety of workshops and lectures, including presentations on their brand new books, Lanham's The Home Place: Memoirs of a Colored Man's Love Affair with Nature and Bannick's Owl: A Year in the Life of North American Owls.  The late George West is honored as our Featured Artist.  West's artwork will appear on apparel and a commemorative 25th anniversary lapel pin and print, available through Alaska Geographic store at Festival Headquarters, Alaska Islands & Ocean Visitor Center.
Homer is known for its beauty and sweeping landscapes, but did you know that Homer also offers the tastiest Alaskan cuisine? Grab a meal at one of our many local restaurants found in our Bird Feed/Bird House section and enjoy some post-birding entertainment including the Center for Alaska Coastal Studies Kick-off Party, Homer Brewery Bird Calling Contest, Pratt Museum Welcome Reception, Cook Inletkeeper Shorebird Social, and much more.  
Stop by the Friends Information Booth at Festival Headquarters, attend the Birders Breakfast and consider joining their efforts in supporting the festival and National Wildlife Refuges in Alaska.
It takes a community to successfully sponsor 25 years of conservation education. The Kachemak Bay Shorebird Festival could not happen without the dedication of countless volunteers, sponsors, and enthusiastic attendees. Thank You and Happy Birding!
Happy Birding!
Robbi Mixon / Shorebird Festival Coordinator
Friends of Alaska National Wildlife Refuges
907-226-4631
info@kachemakshorebird.org