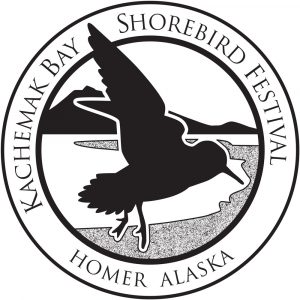 Alaska's largest wildlife viewing festival honors the return of spring and the breathtaking migration of shorebirds through Kachemak Bay. 
The Friends of Alaska National Wildlife Refuges and Alaska Maritime National Wildlife Refuge, welcome locals, Alaskans, Outsiders, and of course, shorebirds back to Kachemak Bay every year to mark this favorite spring-time celebration.  Our Festival continues to be a homegrown success in its 28th year because of local involvement, protected lands, and passionate birders like you.
The 2020 Festival, May 7th-10th, coincides with a full moon and some impressive tides. With your help, we will offer over 130 events showcasing the wonder of the shorebirds' migration and the awe-inspiring landscape of Kachemak Bay to over 900 folks from near and far. This year, the Kachemak Bay Shorebird Festival is excited to welcome two Keynote Speakers: Catherine Hamilton is a well known artist, bird guide and naturalist who uses her talents to bring attention to bird conservation issues across the globe. Eli Knapp teaches courses in ornithology, biology and human ecology at Houghton College and published The Delightful Horror of Family Birding in 2018. Our Festival Artist, local Soldotna resident Abbey Ulen, is creating this year's Festival design of a yellow-billed loon which was a Festival favorite in 2019.
Join us in celebrating our vibrant community, birds, public lands, arts and ecosystems by participating in the 2020 Kachemak Bay Shorebird Festival.  Stay up to date by following us here, on Facebook.
It takes an entire community to successfully sponsor 28 years of conservation education. The Kachemak Bay Shorebird Festival could not happen without the dedication of countless volunteers, sponsors, and enthusiastic attendees. Thank You and Happy Birding!