If you have any questions please phone 907-226-4631 or email kachemakshorebird@gmail.com
Alaska's largest wildlife viewing festival honors the return of spring and the
breathtaking migration of shorebirds through Kachemak Bay.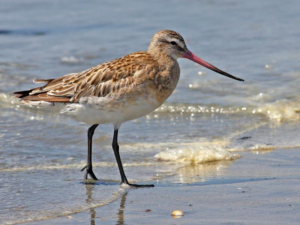 Friends of Alaska National Wildlife Refuges and Alaska Maritime National Wildlife Refuge welcome local Alaskans, Visitors, and of course, shorebirds back to Kachemak Bay every year to mark this favorite spring-time celebration. We will be celebrating the 30th anniversary with the Bar-tailed Godwit as the featured bird! Our Festival continues to be a homegrown success in its 30th year because of local involvement, protected lands, and passionate birders like you.
The annual Kachemak Bay Shorebird Festival, held on traditional Sugpiaq and Deni'ina lands in Homer, Alaska, will again be a hybrid festival, holding space for guided birding excursions, wildlife views and kayaking tours, offered for people of all ages and abilities. The locations of these events ranged from the head of Kachemak Bay to Lake Clark, and along the river and ridges of our community.

At least 141 bird species (including 29 shorebird species)  were spotted in 2021! If you have questions or would like to be on our mailing list, just get in touch, kachemakshorebird@gmail.com.  
The Friends of Alaska National Wildlife Refuges continues to be a great sponsor with continuous support of the Festival and the Coordinator role in this year of transitioning coordinators.  The AK Friends work well in partnership with US Fish and Wildlife Service's Maritime National Wildlife Refuge.  We look forward to seeing you in May!
Stay up to date, share your pics and tell your bird tales on our Facebook Page
Birds connect the world!
It takes an entire community to successfully sponsor30 years of conservation education. The Kachemak Bay Shorebird Festival could not happen without the dedication of countless volunteers, sponsors, and enthusiastic attendees.
Thank You and Happy Birding!